Tips for planning your next kitchen renovation
6 min read
Kitchens are the heart of the home and arguably the most important room in the house. Whether yours is in desperate need of a makeover or you're looking to add some extra value to your home, renovating your kitchen is a great way to go. It can be a daunting task with plenty to consider before you start. But don't worry, here a few handy tips to make sure your renovation gets off to a great start.

Design Design Design
The location of your existing plumbing and electricity is probably the most important thing to think through when designing your new kitchen. Consider whether you can work around the existing lines or whether new ones will need to be installed to work with your preferred design. If new ones need to be added ensure these are planned for at the start of the build as it can be a costly exercise to add them later.
Once you've worked out where your plumbing and electricity lives and decided on a style, there are some functional aspects of your kitchen you need to consider. A common trap renovators fall into is prioritising style over function, ensuring the design has a good workflow, plenty of storage and dedicated work zones will ensure it not only looks great but makes using the kitchen a breeze. Check out our post on 5 zone kitchens to get some ideas on the perfect functional design.
Samples
The shop floor of your local tile, furniture, paint or appliance shop is going to look drastically different from your kitchen at home. Fluorescent lights, crowded spaces and lack of natural light are going to change the way your materials look. Likewise edited photos and videos of kitchen designs can look drastically different to the real deal. When selecting materials, try and view as many samples as possible in your own kitchen to get the best idea of what the final product will look like. You definitely want to avoid any last minute changes or disappointment when it's already installed.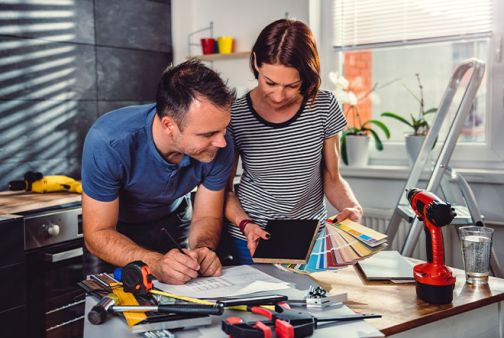 Set a budget
Renovations, especially in the kitchen, always come with a few hidden costs and unplanned surprises. Remember to factor in costs such as labor, materials, delivery and even cleaning when setting your overall budget. And don't be surprised if there are some unplanned works needed to fix things like damaged flooring, plumbing etc. that pop up during works. With this in mind it's best to set a conservative budget beneath your maximum, 10 to 20 percent is usually a good rule of thumb to ensure you don't blow your budget or worse, be left with an unfinished kitchen.
Do your research
Sourcing multiple quotes for your renovation is paramount in achieving your dream kitchen. Not only is it a good idea to compare prices but it will also give you the opportunity to meet with different builders or contractors and see how each will approach your job. It's also worth checking out customer reviews to see the type of work they have done previously and what past clients have said about them. If you can, do an in-home walkthrough during the quoting process so you're both on the same page about what you want and the best way to achieve it. Don't be afraid to be clear and upfront about what you want, they are there the help you bring your dream to life.