Choosing between built-in and freestanding cooking
3 min read
If you're trying to decide between built-in and freestanding cooking for your next kitchen renovation, look no further than our guide below.
When renovating your kitchen, one of the most important decisions along the journey is what type of oven/cooktop arrangement will best suit your lifestyle and the design of your kitchen. Freestanding and built-in cooking offer different benefits and options to make the most of your kitchen space. We're here to help you make that decision by exploring what each has to offer.
Built-in Cooking
Built-in cooking offers the ultimate in design flexibility, allowing you to mix and match appliances in an arrangement that suits your kitchen space and the way you cook. Some choose to stack the cooktop on top of their oven if space is tight and others choose to make a statement, building a bank of ovens at chest height to show off their sleek design and for easy access throughout the cooking process. With built-in cooking you have ultimate flexibility to design a layout that is perfectly in sync with the way you cook.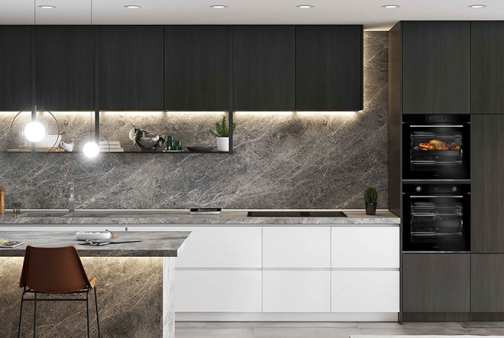 The Euromaid Eclipse Series ovens and cooktop in a sleek, modern kitchen.
Freestanding Cooking
Freestanding offers a more traditional approach to cooking, combining oven and cooktop together into one unit that can easily be moved around the kitchen to fit just about any design. They are the ultimate kitchen statement, becoming the focal point of any design. If you have a more traditional or country style kitchen, freestanding cookers can be the cherry on top to bring your aesthetic together. From a functionality point of view, freestanding cookers are great for cooking larger amounts of food, offering larger internal oven capacity as well as additional cooktop burners compared with your standard in built oven and cooktop. Be aware though, the oven's low position will require you to repeatedly bend over which may be an issue for some.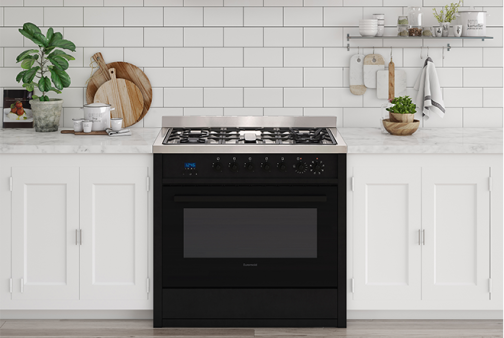 The Euromaid EGE9TBK in a beautiful country style kitchen.
Whichever option you choose, Euromaid has a great range of built-in and freestanding cooking options to choose from. Check out our range here.