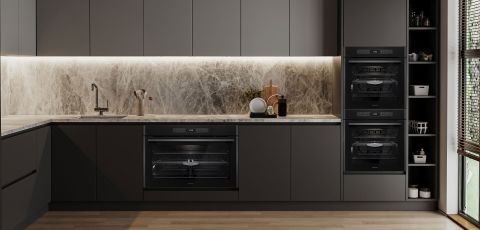 Built-In Air Fry
Built-In Air Fry is perfect for anyone who enjoys cooking healthy, delicious meals quickly and easily. With dedicated Air Fry basket and function the new Euromaid range allows you to cook your favourite meals with little to no oil while still delivering the crispy, golden results you love.


The Power of Steam
Easy Steam increases moisture levels within the oven cavity, ensuring your meals don't become dry and flavourless. Perfect for cooking a succulent a roast chicken; crispy exterior with a juicy, flavourful interior.
Market Leading Capacity
An entertainers delight, our all new platform has been developed to give you a market leading capacity. More space for cooking multiple dishes the same time, entertaining guests and doing the weekly meal prep all at once.
5-Year Warranty
Enjoy absolute peace of mind with Euromaid's extended 5-year warranty. Just another way Euromaid is her to give you more.
Need some help?
Get technical support, find user manuals or get in touch with our customer care team.