Rotisserie Marinated Chicken and Lamb
5 min read
The perfect opportunity to utilise Euromaid's rotisserie feature with a super simple go to lunch or dinner recipe sure to please the whole family.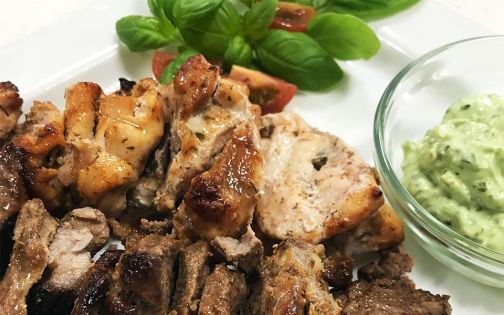 Rotisserie Marinated Chicken and Lamb
Prep time: 35 minutes
Cook time: 40 – 60 minutes
Ingredients
800

 

g

 

Boneless and Skinless Chicken

 

Thighs or Breasts

800g boneless lamb roast

250

 

g

 

Greek Yoghurt

 
2 

tsp

 

Cumin

1

 

tsp

 

Cinnamon

2 

tsp Dried Oregano

2 

tsp Dried Basil

2 

tsp

 

Dried Dill

2 

tsp

 

Dried Parsley

4 

tsp

 

Paprika

2

 

tbsp

 

Extra Virgin Olive Oil

3 

tsp

 

Salt
Method
Prepare The Chicken.
Trim the chicken of any excess fat, gristle, bones or skin. If using thighs, cut into smaller pieces, 4 – 6 pieces each thigh.  If using breasts, butterfly them and give them a little pound with a meat hammer or rolling pin to tenderise and cut into pieces.  Aim for each piece of meat to be about 6 cm square.
Prepare the lamb
On a clean cutting board open the piece of lamb if wrapped in elastic and cut slices ¼ inch thick and then cut again to make pieces the same size as the chicken pieces.
The Marinade
In a dry non-stick frying pan on a medium heat, toast the spices for about 30 seconds - or until they begin to smell extra fragrant. Do not over toast.

In a large mixing bowl, combine the yoghurt, olive oil, salt and spices together until evenly mixed, then divide into two bowls.

If wanting to keep the meats separate, add the chicken to one bowl and Lamb to the other and ensure each piece is thoroughly coated.

Cover the bowls with cling film and place in the fridge for at least 30 minutes. If you can, leave for 24hrs as this produces greater flavour and very tender meat. When ready to cook, thread the chicken on to the rotisserie skewer, and then the lamb. The two meats can be separated with some alfoil if necessary.

Place the Skewer in the Rotisserie position ensuring you have a tray underneath to catch the drips and cook the meat for about 40 minutes to one hour depending on the size and thickness used.

Once cooked, remove from the skewer and allow to rest under some alfoil for about 5 minutes before cutting and serving with pita bread, tzatziki and salads.

Christmas Pesto and Camembert Wreath
A simple, quick and delicious appetiser that's perfect to bring along for pre-lunch nibbles on Christmas Day.
5 mins read