Christmas Pesto and Camembert Wreath
5 min read
A simple, quick and delicious appetiser that's perfect to bring along for pre-lunch nibbles on Christmas Day.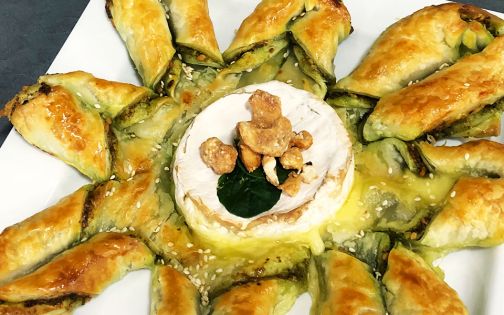 Prep time: 10 minutes
Cook time: 20 – 25 minutes
Ingredients
2 sheets frozen puff pastry, thawed
1 small whole camembert cheese round
3 tablespoons of home made or ready made basil pesto
1 egg plus 1 tablespoon of water for the egg wash
Method
Pre heat the oven to 200

°

C.

Using the round of Camembert, cut a round shape from both pieces of the pastry. Place one sheet of pastry onto a baking paper lined tray. Spread 2- 3 tablespoons of the basil pesto, leaving a round shape bare in the centre. Place the other piece of pastry over the top. Remove the centre of the pastry and fit the camembert into the hole.

Cut the pastry from the edge to almost the centre towards the cheese, making 16 pieces.  Twist each piece over once and then join the two ends of the twists together, pinching the base so they stick together.

Brush each piece with the egg wash and bake in the oven for 20 – 25 minutes until the pastry is golden.

Serve while warm and the cheese is melted.